View others
Registration for the race "Klopotec Trail Pitomača 2022" is in progress – here's how you can participate
28 March , 2022, 10:05 am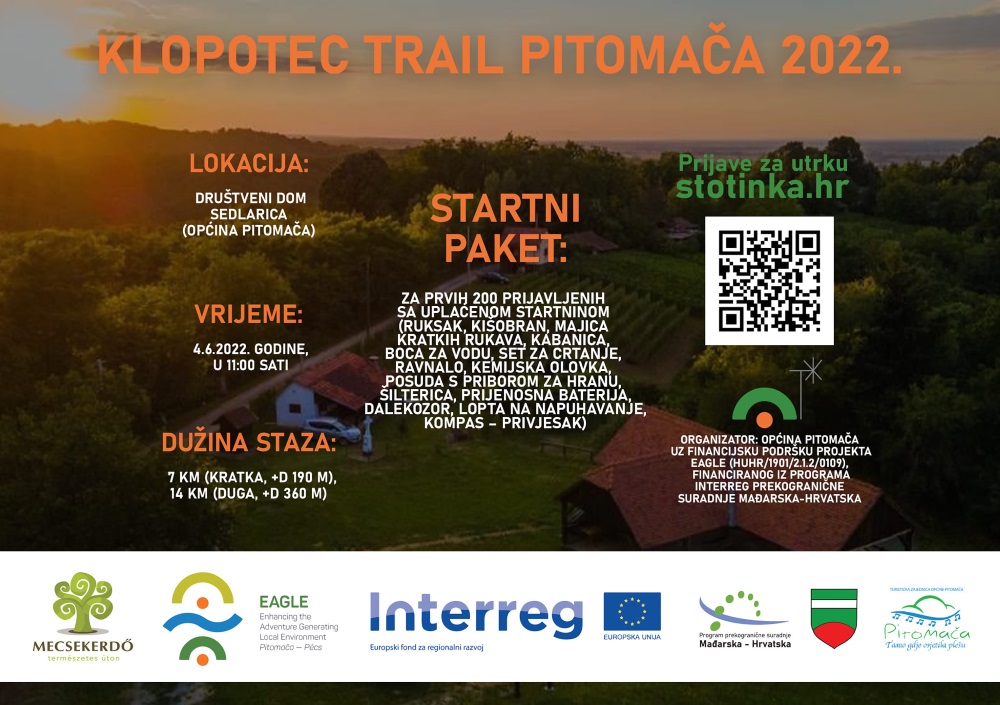 Organized by the Municipality of Pitomača, the trail race "Klopotec Trail Pitomača 2022" will be held on June 4. The participants of the race will compete on the shorter track of 7 kilometers (+ D 190 m) and on the longer track of 14 kilometers (+ D 360 m).
The start and finish will be at the Community Center in Sedlarica. The race is a trail concept, the tracks, which are of the circular type, will be fully marked. The surface is macadam, road, hiking trail and some asphalt.
The first 200 applicants with a paid entry fee will receive a starter pack that includes: backpack, umbrella, T-shirt, raincoat, water bottle, drawing set, ruler, ballpoint pen, food utensils, cap, portable battery, inflatable ball , binoculars, compass – pendant. The entry fee also includes the start number, the finisher's medal, refreshments during the race and at the finish, and a meal after the race. Prizes were provided in both competition categories for the first three places.
All those interested can apply online via the stotinka.hr website until Sunday, May 29.
– After the expiration of the specified deadline, applications are possible via contact e-mail of the organizer, as well as on the day of the race in the start-finish area until the end of registration and assignment of start numbers, but the organizer does not undertake to provide a start package – reported from the Municipality.
The trail is held with the financial support of the EAGLE project, funded by the Hungary-Croatia Interreg Cross-Border Cooperation Program. It is a project of the Municipality of Pitomača, the Tourist Board of Pitomača and the Meček Forestry from Pécs. You can see all the detailed information on Facebook and the website.
Source: icv.hr